Wreaths & Specialty Sprays
These are more traditional arrangements, usually incorporating an easel to create a "standing spray". If desired, they can provide a symbolic tribute of faith or love at the funeral, such as when a cross, or heart is selected. Typically, these arrangements are sent from the closest family members, but there are exceptions.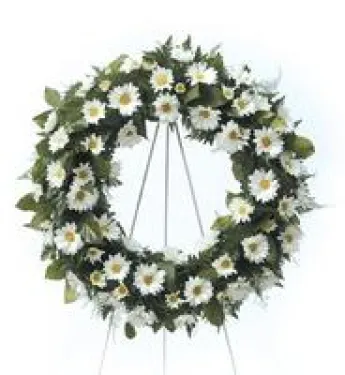 Grandmother's Garden Remembered
White Daisies in this open wreath are reminiscent of the simple gardens of days gone by. It is sure to be received with a remembering smile. It pairs with the Grandmothers Daisy Basket very nicely.
Good: $149.98
Better: $179.99
Best: $239.99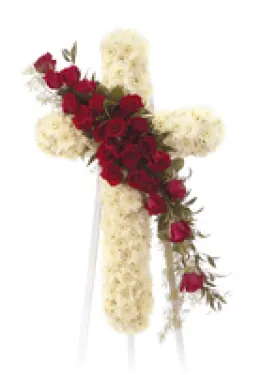 Hope & Honor Cross Standing Easel
Striking and impressive display to honor a loved one. The deep red roses and white carnations contrast beautifully to make dramatic statement and show of respect.
Good: $299.99
Better: $359.99
Best: $419.99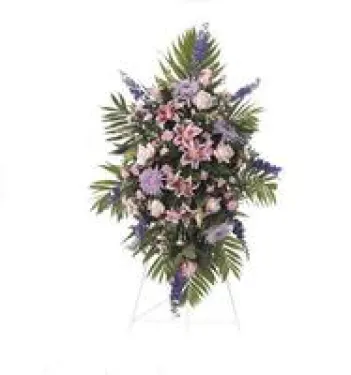 Balance Easel Spray
Shades of pink, purple & lavender with lilies, roses and larkspur on a bed of greenery gives balance to this pretty spray displayed on an easel.
Good: $119.99
Better: $149.99
Best: $179.99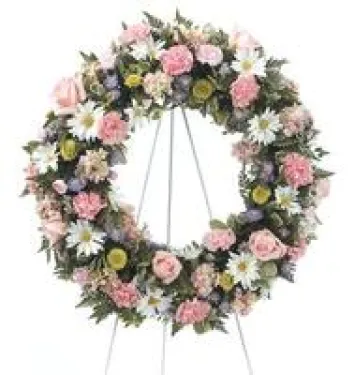 Watercolor Wreath
Pastel pink, white and lavender brought about by roses, daisies & carnations that fill this lovely wreath to remind you of a water color painting. This wreath is a beautiful companion to the Monet's Garden table basket.
Good: $199.99
Better: $249.99
Best: $299.99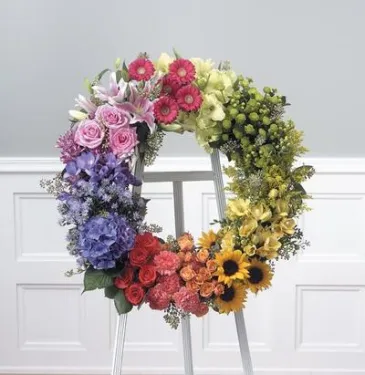 Somewhere Over the Rainbow Wreath
The colors of the rainbow in this amazing wreath create a kaleidoscope appearance. The multitude of textures and patterns add to the depth of character in this unique floral tribute. Impressive and bold yet sophisticated.
Good: $479.99
Better: $599.99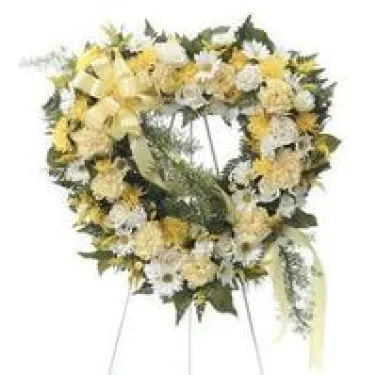 Expression of Love Easel
The universal symbol of love is enhanced with beautiful white and yellow roses, carnations and daisies. A sincere statement of affection.
Good: $209.99
Better: $269.99
Best: $329.99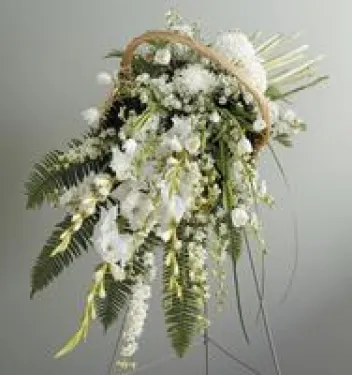 Sophistication Willow Basket Spray
This all white display of mixed flowers is presented in a stunning manner, conveying a statement of respect and elegance to the recipient.
Good: $179.99
Better: $239.99
Best: $299.99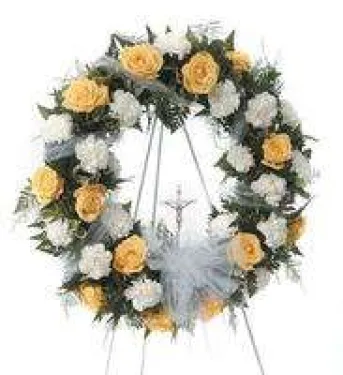 Continuum Wreath on Easel
A traditional wreath, symbolic of the circle of life and continuous love. The yellow roses and carnations arranged in beds of greenery reflect your sentiments.
Good: $179.99
Better: $239.99
Best: $359.99
Compassion
A symbol of sorrow and loss, this piece bespeaks the compassion of grief shared with others. The contrast of red carnations against a pure white carnation back ground.Displayed on an easel
Good: $259.99
Better: $319.99
Best: $379.99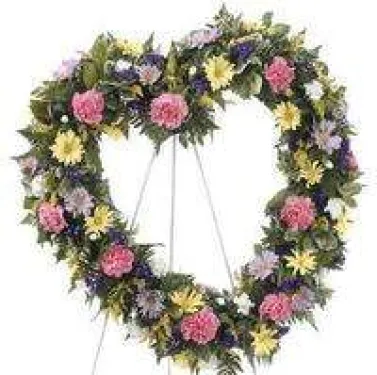 Dear to My Heart
Open heart wreath, embellished with pink carnations, yellow daisies and lavender gerbera daisies and pompons set on a generous bed of greenery for contrast. A meaningful remembrance display on an easel.
Good: $149.99
Better: $199.99
Best: $249.99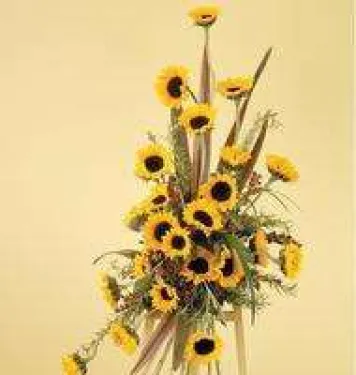 Rays of Summer Sunshine
This bright yellow sunflower spray. paired with lily grass and spikes of greenery for structure, is a beautiful statement of thoughtfulness and concern to the recipients. Displayed on an easel.
Good: $149.99
Better: $179.99
Best: $199.99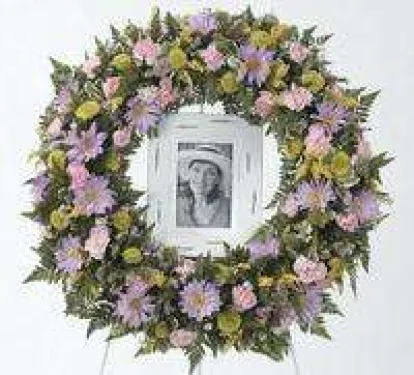 Unending Circle in Pale Shades of Color
Wreath in pale shades of lavender, pink and yellow; carnations, mums, waxflower etc.
Good: $191.99
Better: $239.99
Best: $299.99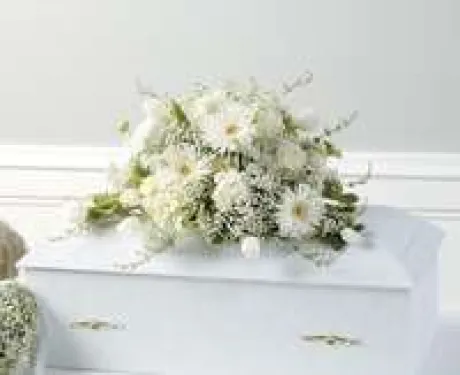 Baby's Casket Spray
Collection of white flowers portrays innocence in it's simplicity and beauty.

Price: $134.99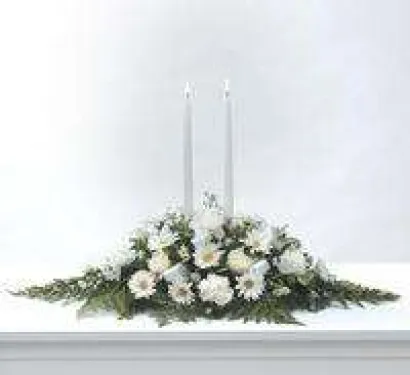 Illumination All White Centerpiece
Seasonal white flowers paired with white candles in a centerpiece makes an elegant statement of sincere thoughtfulness.
Good: $89.99
Better: $119.99
Best: $149.99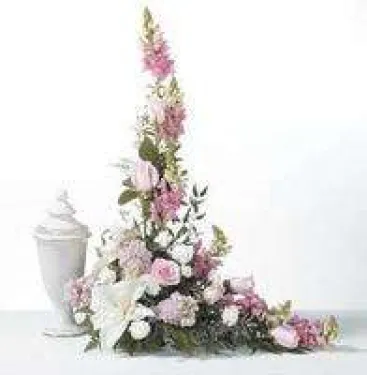 Cremation Urn Arrangement
This tall and elegant arrangement, composed of stock, roses and carnation compliments the urn as the centerpiece of the service. Artistic and nontraditional.
Good: $89.99
Better: $119.99
Best: $149.99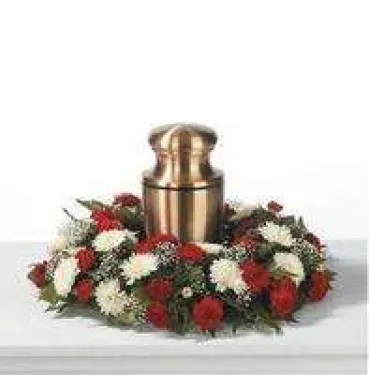 Urn Memorial Wreath
Red and white carnations, daisies and fern set with babies breath, encircle the urn as a centerpiece showing unending devotion and love.
Price: $124.99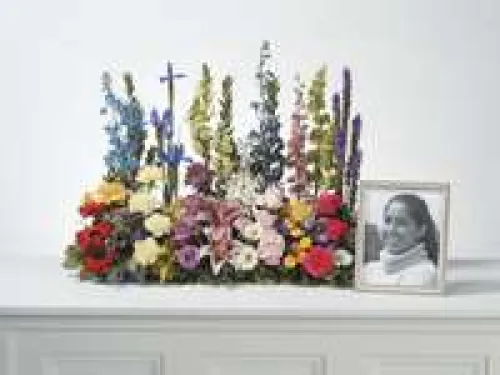 Floral Garden Border Memorial Centerpiece
The style of this seasonal flower arrangement depicts the look of a border in a casual garden. Peaceful and familiar as well as thoughtful and original.
Good: $149.99
Better: $179.99
Best: $209.99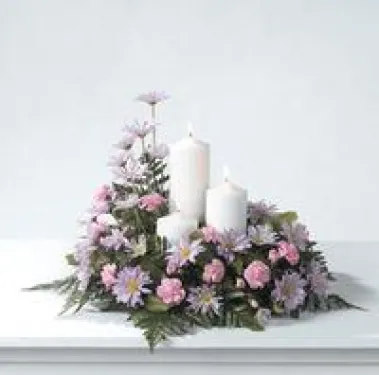 Table Memorial with Trinity of Candles
This trinity of lighted candles, centered in a lovely sculpted arrangement of seasonal flowers, will be the focal point for the service and a lovely piece to display at home. A thoughtful presentation with lasting quality.
Good: $99.99
Better: $124.99
Best: $149.99